ESL MiniConference Letters
Volcanes Community Education Project - Crowd Funding!

(Winter 2014-2015)
EDITOR'S NOTE:

The Volcanes Community Education Project is a forward thinking initiative by a group of dedicated educators from Fort Hays State University who are providing and are determined to continue providing highly qualified teachers and teaching materials for the children in the Volcanes community of Puerto Vallarta, Mexico.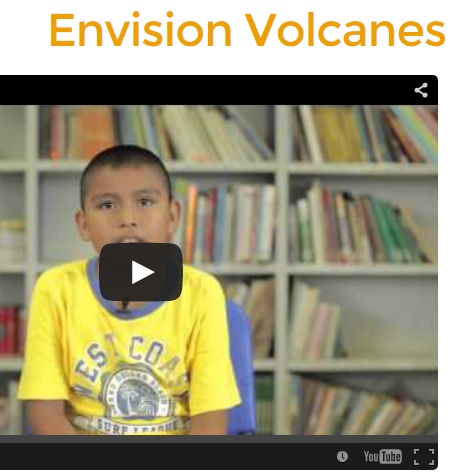 I hope that in the spirit of the holiday season, ESL MiniConference readers in America and around the world will look at the "Go Fund Me" site that Fort Hays State University students have developed to facilitate this fund-raising drive on behalf of a project that has included a number of Fort Hays professors and cross-cultural advocates over recent years.
You can also like "Envision Volcanes" ( https://www.facebook.com/pages/Envision-Volcanes/757270150999612) on FACEBOOK!!
Warm holiday wishes,
Dr. Robert Bruce Scott, Ed.D.
robb@eslminiconf.net
Editor and Founder, ESL MiniConference Online

Announcement - New TESOL Certificate Program Open In Thailand (Winter 2012-2013)
Dear Robb,
Trinity TESOL Thailand in association with St. Stephen's International School is proud to present the only fully accredited Trinity TESOL course currently available in Thailand. It is our intention to provide the best TESOL Certificate course possible in the most conducive surroundings to promote creative and collaborative teacher education held to the rigorous standards of Trinity College London. We hope you will join us in this exciting endeavor.
The course will be held in the St. Stephen's International School in the Pak Chong area, just outside the Khao Yai National Park. This is about 150 km from Bangkok. For more information on initial course dates please email cert@trinitysis.com.
Let me know what you think, and like us on facebook! ( http://www.facebook.com/TrinityTESOLThailand)
David Hopkins cert@trinitysis.com
Trinity TESOL Thailand

Thank-you Note from David Hopkins (Summer, 2012)
Dear Friends
How do I say thank you to you and others who have commented on my Festschrift in the ESL MiniConference Online. You are only as good as the company you keep, and I have always been blessed with really good company. It is all about collaboration in context, and I couldn't ask for anything more. Dr Robb has been unerring in his choice of friends to comment as he has heard me talking about all of you over quite a period of time. I see myself as a mediator of good ideas, and you folks represent my most valuable sources.
To Tadashi Shiozawa... I am indebted to you for inspiring me to think more about what I was doing in an intercultural context, and teaching me much of what I know about Japan, Japanese culture and good teaching.
To Ray Clark... there is just too much to say. I have lived and worked in this business long enough to truly appreciate the creative ideas of my initial mentor from language play to the focus on lexicon. Amazing Ray!
To Diane Larsen-Freeman...Wow, I am honored and humbled to have had the chance talk with you over the years, from your advice in getting the Peace Corps language project off the ground, to your fascinating writing on complex adaptive systems. You are simply one of the most amazing minds and gracious persons I have been privileged to know.
To Marc Helgesen... my initial encounter with Marc says it all. I went to one of your 50" JALT sessions, and walked away with a dozen new things I could do in my classroom tomorrow. Then, I met you and realized you are also a really nice guy as well as a great teacher. Awesome!
To Bruce....kindred spirits for sure. It is seldom in life that we have the opportunity to actually do what we want to do with people who are going in the same direction. You made it all happen Bruce!
To Robb...How often do you collaborate with people who make you better, just by being who they are? You have made me better amigo, perhaps better than I ever deserved to be!
To Steve...You should give classes, no, courses, in "listening," as one of the rare people who actually listens when someone else is talking or writing. This is a wonderful quality and I will be signing up for the course.
Thanks for the chance to resonate with you over the years.

Thank-you note from Dave Hopkins


Re: Dave Hopkins Festschrift (Summer, 2012)
Dear Mr. Scott,

I apologize for not responding much sooner than this, but I hope you will still have time to add my contribution to Dave's Festchrift.
Steve Wade
EAL Teacher
THAILAND

Editor's Note: Contributions of text for the Dave Hopkins Festschrift will be accepted the rest of the summer and into the early fall season. You may send your article to DrRobbScott@gmail.com. Thanks for joining this great ESL celebration!


CORRECTION (January 13, 2012)
In the e-mail newsletter alert that was sent to ESL MiniConference subscribers this morning, January 13th, in a promotional blurb about this year's CATESOL 2012 Conference (April 12-15), readers were warned not to forget either about the annual International TESOL Convention, in the midst of their excitement about the California/Nevada event. ESL MiniConference regrets its error in stating the location of the TESOL convention. TESOL 2012 will be in Philadelphia, Pennsylvania, March 28-31. Readers are strongly encouraged to attend both of these important events!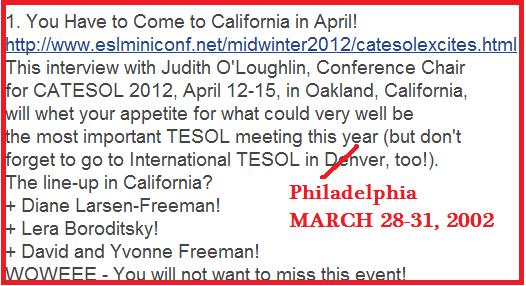 Apologies,
Dr. Robb Scott
Editor, ESL MiniConference Online

Editor's Note (December 15, 2011)
In recent editions of the ESL MiniConference Online, I have returned to the original style of our newsletter, of including small banner ads leading to useful information and resources that are related to some of the key issues being examined and discussed in the articles on our site. If you would like to bring to my attention an upcoming event or an important resource that is relevant to current or prospective ESL/EFL and cross-cultural teachers and learners, please contact me at Robb@eslminiconf.net or DrRobbScott@gmail.com.
I am also very happy and excited to be able to share with the 10,000+ monthly readers of the ESL MiniConference Online the new Kindle edition of our now classic "Transition, Turmoil, and Hope: The ESL Profession After 9-11," which collects the Achievement Profile interviews published on the ESL MiniConference from 2002 to 2004, capturing the essence of trends and changes as the field of ESL/EFL reacted in the aftermath of those attacks on American soil that took global victims and launched a period of fear and uncertainty throughout the international community.
With this mid-winter edition of the ESL MiniConference, and our re-launch of "Solutions for Teachers" as well as a new advocacy group, "Kansas Council for Equity and Access to Transition Services," and as we celebrate 10 years of online publishing, it is my hope that you will see many signs of "peace on earth" in the year 2012.
Sincerely,
Dr. Robb Scott
Editor, ESL MiniConference Online
Editor's Note Re Japan (March 20, 2011)
The ESL MiniConference Online wishes to express sincere condolences to the families of victims in the recent tsunami and earthquake disasters that hit the nation of Japan.
Many of our readers are Japanese teachers of English or others who have made Japan their second home as English teachers. Many other teachers have lived and worked in Japan at different times in their lives, and are connected forever to the Japanese people through friendships developed through those experiences.
With this message goes the sincere hope that the worst of this month's natural disasters is over for the people of Japan. No one can doubt that Japan will successfully rebuild itself into something even better. At the same time, there are people there in hard straits right now, and our readers are encouraged to contact the Red Cross or the Japanese Red Cross at http://www.jrc.or.jp/eq-japan2011/donation/index.html and give what you can to help.
Sincerely,
Robert Bruce Scott
Editor, ESL MiniConference Online
Use Your ESL Skills To Help Afghan Women From the Comfort of Your Home! (January 23, 2011)
ESL/EFL Colleagues,
The Alliance for International Women's Rights is seeking volunteer women ESL/EFL professionals who are willing to teach long-distance English classes to Afghan women. The Alliance is a nonprofit organization devoted to supporting women's rights efforts in developing countries, with a current focus on Afghanistan.
Our efforts include increasing the English capacity of Afghan women leaders and future women so that they can better reach out to the international community for information, ideas, funding and to share their experiences with the world. The volunteer positions do not involve any travel – the volunteers will teach Afghan women and girls from the comfort of their own homes using Skype and E-mail.
Volunteer requirements are as follows:
Must have a near-native proficiency in English with TESOL certification or teaching experience.

Due to the Afghan culture and for the safety of the Afghan women and girls in our program we are only able to work with women teachers for this project.

Volunteers need to have a reliable computer, high-speed internet, Skype software (free software is found at www.skype.com), and a headset.

The volunteers will need to be available to teach one student for two sessions a week for a minimum of three months. Each class session generally runs for 45 minutes or one hour, depending on the student's availability.

Although we are still in the process of determining the availability of the Afghan students, we anticipate that many of the classes will occur Saturday through Thursday, between 9:00 a.m. and noon, and 2:00 and 4:00 pm (days and time are in Afghanistan's time). These times are not yet definite and may change.

Interested applicants should determine if they are available during these times by comparing their local time to Afghanistan time on the following website: www.timezoneconverter.com. We ask that applicants please determine their availability during the required hours before applying.
We are only able to interview candidates who are available at the requested times. Please consider using your skills to help Afghan women and girls. If you are interested, please contact Vicky Willson at VickyW@aiwr.org.
Please send a current resume. Additionally, you may want to download and fill in the English program application on the bottom right side of our home page: www.aiwr.org
V. Wilson
VickyW@aiwr.org
Volunteer ESL Coordinator
The Alliance for International Women's Rights
www.aiwr.org

TEFL International News! (April 25, 2010)
Hi Robb,
TEFL International is offering a $500 discount for TESOL Certificate courses at our proprietary centers (Ban Phe, Nepal, Vietnam, Zhuhai, Shanghai, Beijing, etc.) I would appreciate it if you would spread the word to friends and colleagues. See the website www.tefllife.com
We are also pleased to announce the following university affiliation for all graduates.
"TEFL International alumni who qualify for admissions at Anaheim University will be granted credit for EDU500: Second Language Teaching and Learning."
-David Nunan, Dean, Department of Education, Anaheim University."
Thanks for your help,
All the best,
Dave Hopkins

Director of Academics
TEFL International

Achievement Profile Follow-up: Donald Cherry (March 30, 2010)
Hi Robb,
Don Cherry here, star interviewee of your late summer ESL miniconference achievement profile page.
I thought I would let you know that I've been working on a blog for a while about life in Japan that I thought your readers might find funny. You can find it at donaldcherry.com/trombone. Have a look, if you like, and if you think it would be appropriate, feel free to link to it from your site, or to send it to anyone else you think would enjoy it.
Have a nice spring!
Donald E. Cherry
Homepage: donaldcherry.com
Blog: donaldcherry.com/trombone

Immigrant Family Scholarships from Western Union (November 12, 2009 - RFP Deadline February 5, 2010)
Re-posted from FoundationCenter.org
Western Union Foundation Announces New Scholarship Program for Immigrant Families
The Western Union Foundation's Family Scholarship Program is a new educational initiative for migrants, immigrants, and their families in the United States.
The Family Scholarship Program is intended to help two members of the same family move up the economic development ladder through education. Scholarships may be used for tuition for college/university education language acquisition classes, technical/skill training, and/or financial literacy. For example, one family member may request assistance to attend college and the other family member may request assistance to attend English as a Second Language courses.
All applicants must be 18 or older. The country of origin for at least one of the applicants must be outside the U.S. Applications must include educational providers for primary and secondary award recipients (must be two family members). Scholarships will only be made to nonprofit accredited higher education institutions and nonprofit training/educational providers.
Recipients are eligible to receive scholarships in amounts of $1,000 to $5,000 per family.
Recipients are determined in a selection process independently managed by the Institute of International Education, an international nonprofit educational exchange organization.
Applications for the winter scholarship are due February 5, 2010. Visit the Western Union Foundation Web site for complete program information.
Contact: Link to Complete RFP:
http://corporate.westernunion.com/scholarship.html

Language Experience (November 4, 2009)
Hi Robb,
I just read your article about using the language experience approach to teach ESL discussing Marsha Taylor's approach ("Raising Awareness to Form: Ellis Research Implies Changes to Krashen Model", Winter 2008-2009). I am really interested in learning more about this. I work in an ABE program and occasionally have an ESL person enroll. I have little ESL training but a lot of experience with using language experience from previous teaching experiences teaching reading at the elementary level. The setting that an ESL person has when coming into my program is working on their own with materials I have, ( I do have the Cross Roads Cafe texts and videos and have relied on them in the past). Because it's a program where individuals work independently with what I set up for them and have maybe 20-30 minutes to work with them individually, it seems like to get the most out of our time together, I would like to personalize our lessons and use what language they need as a priority. Can you give me any direction on the scope and sequence of grammar that I could be directing our activities and conversation time toward? I would appreciate any suggested resources. The individual I am working with right now is Korean and has very little conversational English though very motivated. He has a job at the local grocery store in the meat department and could advance if he could talk to customers.
Sincerely,
Lisa Rininger
Learning Resources Department
Alaska Vocational Technical Center
Seward, ALASKA 99664
Editor's note: I responded to Lisa Rininger with a link, www.prolinguaassociates.com/Pages/literacy.html to a page of suggestions for teaching English to "true beginner" adults, from the experts at Pro Lingua Associates in Brattleboro, VERMONT.

Silent Way Courses in Tokyo (July 24-26, 2009)
For anyone who might be interested,
I thought I'd mention here that I will be teaching an intensive Silent Way English course in Tokyo July 24-26, and then 3 subsequent weekends over the course of the next 6 months. If you know anyone who would like to experience this approach, check out http://sites.google.com/site/gaandsw/Home/wsinfo. I apologize in advance for this shameless self-promotion. I just figured it's not often one can see this approach in action.
Sincerely,
Donald Cherry
Hiroshima, JAPAN

The JCMU Melville Endowed Scholarship Fund (March 19, 2009)
Dear Mr. Scott,
My name is Kate Simon, I am the Program Coordinator for the Japan Center for Michigan Universities (JCMU). I recently found your tribute to Harold "Mel" Melville on the ESL MiniConference, and I thought you might be interested in the JCMU Melville Endowed Scholarship fund. We have established this endowment to honor and remember the contributions of Harold who touched the lives of hundreds of JCMU students over the last 20 years. The endowment will provided annual need-based scholarships to JCMU students studying Japanese language and culture.
You can find out more about the JCMU Melville Endowed Scholarship Fund on the JCMU website. I have been trying to reach out to the different people and groups that had connections with Harold over the years. It has been amazing to find out how many things he was involved with, and how many people he touched.
Sincerely,
Kate Simon
Program Coordinator
Japan Center for Michigan Universities
Michigan State University
East Lansing, MICHIGAN
www.isp.msu.edu/jcmu

Enthusiastic Short-Term Summer Teachers (February 24, 2009)
Dear Robb,
I am teaching a large course called "English as an International Language" for undergraduates at the Univ of Central Florida. Several of my students would like to teach overseas this summer in a short- term situation, probably 4-6 weeks.
These are juniors and seniors who are native speakers. They know more about English grammar from an ESL viewpoint than some of my graduate TESOL students! They are energetic, gung-ho, and ready to go, but I don't know where to send them that I can vouch for.
A few years ago one of our students went to China for a short-term gig in the summer. He received a decent salary, housing, and a food allowance. I think he had to pay his own airfare over.
My students are interested in Japan, China, Korea, Russia, Spain, Mexico, Thailand, and many other countries.
If ANYONE has ANY suggestions -- or if any program is reading this, please post something back to me [see Web link below] and we can talk further.
Keith Folse, Ph.D.
www.keithfolse.com
Coordinator, MATESOL Program
University of Central Florida

Henro Pilgrimage (February 14, 2009)
Dear colleagues,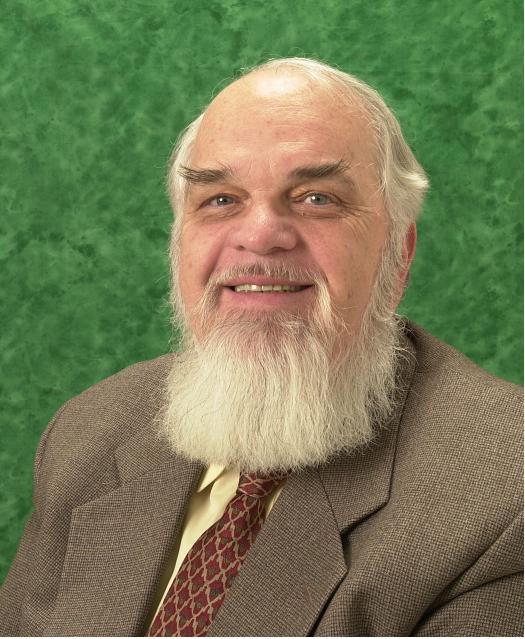 On Valentines Day, I will leave, with a friend, for Shikoku where we will begin walking the Henro Trail. This year we plan to walk for 21 days (the maximum vacation time available to us), continuing next year at about the same time. Briefly, the Henro Pilgrimage consists of going around (walking in our case, although these days the majority of people go by bus tour) Shikoku, stopping at designated temples and chanting the Heart Sutra.
I will be blogging the experience at www.henro2009.blogspot.com. A number of times each day I will send photos and text. I hope that you will join us on our pilgrimage.
Charles Adamson
Sendai, JAPAN

Detroit Schoolchildren Welcome President Obama (January 25, 2009)
Robb,
I wanted to share this video of our ELL students here in suburban Detroit on Inauguration Day. It was great to see these often-overlooked students get some positive attention!