Heritage and Context for Language Learning
Review of "Grandma's Tortillas"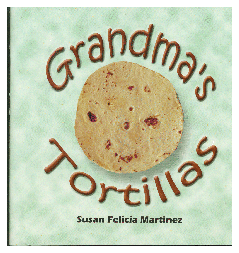 The walkway at this summer's Migrant/ESOL conference in Wichita, Kansas, was filled with publishers' booths, and I did my best to visit at each one. But perhaps the most intriguing booth was simply titled "Grandma's Tortillas," which was the only book they were promoting. Behind the table were Susan Felicia Martinez and her family, including her mother. I stopped to talk with them and discovered in the process the story behind this wonderful little book.
Here is how the story begins:
Grandma makes the best tortillas. That's because she had the best teachers. Her father and mother, who came to America from Guanajuato, Mexico, taught Grandma how to make tortillas when she was a young girl....Now Grandma is teaching me.
It is a 14-page story, illustrated with photographs of Susan Martinez's daughters helping their grandmother as they learn each step of the tortilla-making process. Some of the key vocabulary used on the first page of this easy-to-read story:
bleached wheat flour dough
separate and roll out
flat white circles
There are helpful, thematic headings for each section of the story: "Kitchen Utensils," "Ingredients," "From Flour to Dough," "Kneading the Dough," "Dough Balls," "Rolling Tortillas," "Cooking Tortillas" and "Taste Testing."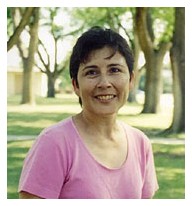 At the end of the story, Susan Martinez has included very clear, concise instructions for "Grandma's Tortilla Recipe," so that readers and their families can recreate the experience they have learned about in the book.
I showed "Grandma's Tortillas" to someone at the conference who is responsible for helping new families from Mexico get oriented and adjust to life in central Kansas. She said that she thought she could use this story as a vehicle for children and their parents to share the experience of learning to read English as they also honor their traditions.
It would be a powerful book for new Spanish-speaking immigrants to learn how to read English by focusing on content which is relevant to their lives and their traditions. It is a practical way to give learners direct access to English. You can imagine teachers and students enjoying using the "Grandma's Tortillas" story as a classroom text, and perhaps even cooking tortillas together in the process.
The book is available through World Association Publishers, 205 Fifth Avenue, Tarentum, Pennsylvania 15084. The ISBN number is 1-891231-93-6.
You can also obtain the book through IndyBook.com.
Review by Robb Scott, Hays, KANSAS
Robb@ESLminiconf.net

2003 ESL MiniConference Online