Achievement Profile: Maxine and Don Huffman
Promoting Multiculturalism Through Int'l Education
Dr. Maxine Huffman and Dr. Donald Huffman, retired professors of English and biology, respectively, at Central College, in Pella, Iowa, have been "central" to the multiculturalization of the university through their involvement in international exchange programs and teaching in Yucatan, Mexico, and in Hangzhou, P. R. China. At Central, she designed the "Cross Cultural Perception and Communications" course, the English as a Second Language program and contributed to the Asian Studies program. The two of them have been involved in scholarly exchanges with Zhejiang University, in Hangzhou, China, since 1991, when they first traveled with a group of Central students to study there. They researched and contributed articles, wrote some original articles and edited most of the material for a series of textbooks for English language instruction, "The New College English," which are used widely in China today. The ESL MiniConference Online is pleased to share insights from Dr. Don Huffman and Dr. Maxine Huffman, from their extensive experience and expertise in the field of international education.

Some Huffman links:

"Huffman Gift to Bring Chinese Scholars" (Central Bulletin, Winter, 2000)
Central College Home Page (www.central.edu)
"No Boundaries"

(Central Bulletin, Fall, 2001)
Maxine Huffman's e-mail
Donald Huffman's e-mail
Zhejiang University , Hangzhou, Zhejiang, China (www.zju.edu.cn/english)
An ESL MiniConference Online interview
with Donald and Maxine Huffman: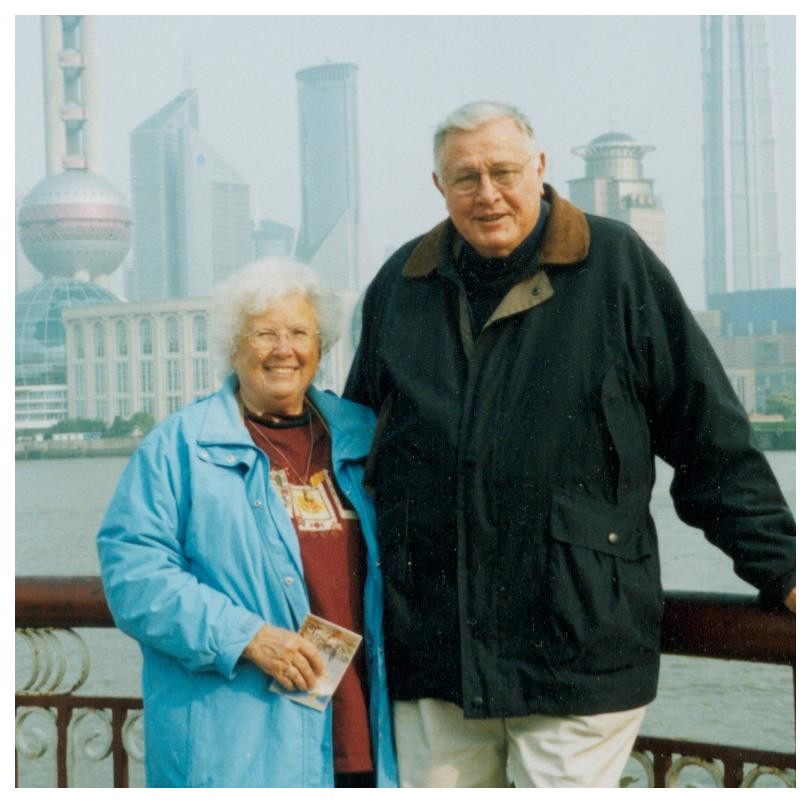 What are your main ESL/EFL activities now? What are your principal projects? What is on the back burner?
[Maxine & Don] Our main activity is editing, recording, writing and researching material for New College English, a series of seven English language textbooks now in use in Chinese university and college ESL classrooms. Publication is with Foreign Language Research Press in Beijing, P.R.C. , and at present more than 525 universities and colleges have adopted the texts with more than 2 million books sold to date. We also consult in ESL-related work in the U.S. and China. Projects on the back burner include online instruction for use with the New College English books and planning for the 2nd edition of the textbook series.
How did you start your teaching careers, ESL, linguistics and others? Who influenced your decisions? What were some important formative experiences in the early stages of your development? If you had to give several pieces of advice to a new ESL/EFL teacher, what would they be?
[Maxine] I started teaching as a biologist at Central College in Iowa, returned to school and linguistics and ESL when Central needed such a person, and I discovered an interest and liking for the area. I enjoyed working with international students and with language so this was a natural direction to turn. Don insists that I simply shifted from taxonomic biology to language structure and grammar--the two do have similar logic--and linguistics was a new area in which I was interested.
My decisions were influenced greatly by Dr. Virginia French Allen at Columbia University where I did my doctoral work in Lingistics and ESL. Having her as a thesis advisor and teacher taught me a lot about the importance of a common sense approach to teaching ESL. Teaching at a small midwestern liberal arts college for many years, I had many different nationalities of students in my classes. I learned I had to immerse and introduce them into the culture as soon as possible and see that they made friends, were using English daily. I managed to enlist a cadre of interested professors from other disciplines to further extend language work with the international students.
In 1991 Don and I started teaching at Zhejiang University in Hangzhou, PR China, while accompanying students in an international program from Central College in Iowa. We both gained insight into Chinese students, their dedication and determination to learn English, and we valued their work ethic, industry, and friendship. I would tell any new ESL/EFL teacher to have patience, a willingness to listen to the students outside of class as well as within the classroom, and to be involved in the solution of the problems which the international students faced. It is also important to enlist the support of other faculty to aid in these efforts.
[Don] I started teaching as a biologist, became involved with cross-cultural teaching of international students, and worked especially on teaching writing to biology majors including international students. I began ESL by teaching and assisting Maxine in ESL workshops and in ESL classes in China--mostly composition and conversation courses for students ranging from freshman to graduate student level. Maxine was the major influence and my mentor in ESL training and methodology. I agree that patience and consistently fair and sympathetic listening help immensely in ESL/EFL teaching.
[Maxine and Don] Gaining recognition for the importance of the profession and convincing other faculty of the importance of systematic language learning in all courses taken by international students is very important. This includes hiring competent, well-trained faculty in ESL, providing an excellent compensation and budget for their development, and encouraging them to use the best available texts and instructional materials. This effort should be started as early as possible in the educational system and continued through graduate level instruction.
What do you see as the most important issues facing the ESL/EFL teaching profession today?
[Maxine and Don] Recognition, adequate compensation and convincing other non-ESL faculty and administrators of the importance of a comprehensive language learning program are necessary for any institution that is serious about teaching ESL/EFL to international students or students whose first language is not English.
Interviewed by Robb Scott
2003 ESL MiniConference Online