Lizabeth England, a member of ATESL's national leadership team, has distinguished herself as an ESL professional who seeks to empower her students and everyone around her through the language-learning process. Dr. England shared insights from her experience in a recent ESL MiniConference interview.
Some Liz England links:
The American University in Cairo
New Professional Development Strategies (2001)
Promoting Effective Professional Development in English Language Teaching (1998)
Speaking of Business: High-Advanced Business (Tapestry series, Heinle & Heinle) (1995)
A Survey of Foreign Students in MA-TESOL Programs (1989)
U.S. Educated English Teachers Overseas: Ready or Not? (1988)
The Use of Basic Writing Materials in ESL Writing Classes (1984)
The Role of Integrative Motivation in English as a Second Language Learning Among a Group of Foreign Students in the United States (1982)
An ESL MiniConference Online interview
with Liz England: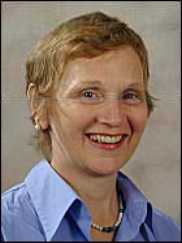 What is your main ESL activity now? What are your principal projects, and what is on the back burner?
Teacher education (MA TESOL); writing a book on English language teaching in the Middle East. English for Occupational Purposes program design and implementation. Keynote and workshops at the Saudi Association of Teachers of English (SATE) conference. NAFSA's conference at the end of May. A week of blessed vacation! Oh yes, and collecting food & supplies for Palestinians trapped in the West Bank/Gaza.
How did you start your ESL career? Who influenced your decision? What were some important formative experiences in the early stages of your development?
I taught ESL to a group (family, four generations!) of Vietnamese refugees in Madison, Wisconsin (The grandma told me that she was rich in VN !) but came to the U.S. with "nothing in my hands" -- I was moved and touched by her and her family). Formative experiences: graduate school at the University of Illinois, Champaign-Urbana, where I was taught by some of the world's leaders in our field and created friendships with them, as well as fellow grad students, that have lasted for all these many (22!) years, in many, many cases. The University of Illinois was a very special professional and academic environment for TESOL'ers (in those days). I was blessed to have ended up there -- in the middle of the cornfields! Finally, going to Egypt in 1984 (single mother, brand spanking new Ph.D. in hand). Egypt changed my son's and my own lives in meaningful ways.
What are the four or five language/culture backgrounds with which you are most familiar as a teacher? Which ones are you familiar with from the perspective of a language learner yourself? What insights have you gained in how to meet the needs of English learners from these cultures and language backgrounds?
Arabic speakers -- the answer is too long to put here. Come to a workshop or read my book! As a learner and teacher of Arabic speakers in the U.S. and in an Arabic-speaking context, I have learned so much about the culture and language; also, I learned French as a foreign language in high school, college and graduate school. I am especially fond of African French speakers and less fond of France's French speakers.
If you had to give three pieces of advice to a new ESL teacher, what would they be?
Get trained, get trained, get trained : ESL teachers need to be prepared. They have a very important role in today's world, far greater a role than most people realize. They cannot teach because they are native speakers. They need training, high quality training, along with teaching experience.
What do you see as the most important issues facing the ESL/EFL teaching profession today?
Saving the world from mass destruction and hatred. I know, this sounds like a joke. I mean it. I live in Cairo, Egypt, where people of all nationalities are trying hard to get along, to talk, to listen. English is a medium for international peace. We need to get that word out. I am typing this message at the U.S. consulate in Jeddah where I have just finished three days of a keynote at the Professional Teachers' Association conference and workshops with Ministry of Education teachers. I am further convinced that we (ESL professionals) worldwide are in 'the driver's seat' for making the world work and work together. In Sha'Allah, as they say here.
Interviewed by Robb Scott
2002 ESL MiniConference Online