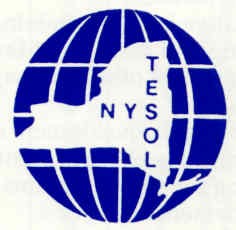 April 2003
Report from New Jersey: Keynote
KATESOL Spring Conference
NYS ODMAC April 26th

/ Index /
/ Letters /
/ Search /

Subscribe
for free!


April 2003
Report from New Jersey: Keynote
Barbara Tedesco and Elizabeth Franks kicked off the fourth annual NJTESOL/NJBE conference on culturally and linguistically diverse exceptional learners with a rousing keynote presentation on recommended procedures for interventions and assessments.
KATESOL Spring Conference: Overview
At the 20th annual KATESOL Spring Conference, KATESOL (Kansas Association of Teachers of English to Speakers of Other Languages) voted to change its name to KATESOL/BE, with organizational ties now to both NABE and TESOL.
ODMAC 2003: NYC Region Mini Area Conference, April 26th!
"Teaching ESL in a Time of War" is only one of the many great sessions planned for this year's ODMAC conference, hosted and co-sponsored by Pace University, in the heart of downtown NYC.