Back to Graduation Page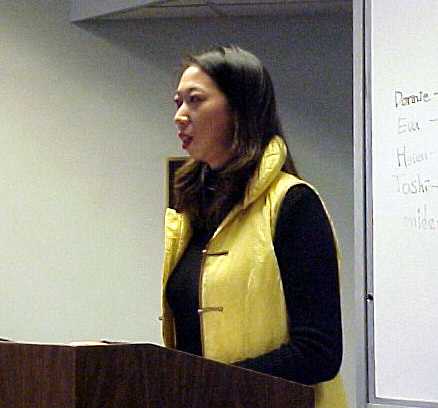 Hello, everybody. My name is Ling-Hsien Chiang. You guys call me Hsien. I think most of you know me. I would like to thank Robb, who is giving me this opportunity to stand here.
God knows how much nervous this speech makes me. O.K., let me start with a short song. The name of the song is "This Land is Your Land."
This land is your land, this land is my land
From California to the New York island,
From the redwood forests to the Gulf Stream waters:
This land was made for you and me.
This is one of my favorite songs I learned from Lao's singing class. I love that class. From that class I learned, I learned a lot about American cultures and American songs.
Now I'm here. When I just got here I start to love New York. And now I wish I could stay longer. New York is so great. And I have a wonderful time here. I like all the place I hung out with my friends, all the activities, events, I joined. And all the friends I met here.
Now my feeling is totally different as the first day I was in Aspect. Do you still remember your first day in Aspect? Everyone had a orientation test in first day, right?
So, how was your feeling on that day? Can you try to refresh your memory? Could you? No? O.K., let me tell you my experience.
When Anna and Robb introduced the whole situation about school and let us know what we have to know, at that time I couldn't understand. I only got some main points from them. So, I thought after they finished speaking they could explain again in Chinese. But they didn't. I felt frustrated.
Suddenly I realized I have to use my poor English from that day on, to do my best with my poor English. And now I still, I have still been using my English to make this speech.
I remember my frozen hot chocolate trip with my teacher Curt and my classmates. That was so great. And I had a wonderful time. Do you know what "frozen hot chocolate" is? That's a vocabulary oxymoron, oxymoron, like "a free gift" or "working vacation." If you were in Jeff's class, you will know what this vocabulary means.
So, go back to the frozen hot chocolate. You have to try and you will realize how it is special.
Another thing is on Thanksgiving Day. That's also give me a deep impression, because in my country we have never celebrate this Thanksgiving Day. So, I had a very rich Thanksgiving Dinner in my host family.
My host mom is a very good cook. I can't forget how full I was on that day because I ate too much to fall to sleep. Do you want to move to my host family after I leave? O.K., no problem. Come to talk with me and I will charge you 10 dollars commission, and I'll share with Charlie.
So, I want to tell you enjoy your life and treasure what you have now. Every day's different. You will never know what will happen tomorrow.
Come to the class. Join the activities. And experience New York with your friends. Treasure every day. When you learn more, you see more, you gain different opinions and you'll see things in a whole new light.
Finally, I want to show my appreciation for my teachers, appreciation for your hard work.
And I want to thank my friends whom I met here. Thank you for enrich my life. You let me have a wonderful time while I was here.
To conclude, I wish everybody a Merry Christmas and Happy New Year. Thank you very much.