<![if !vml]>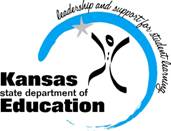 <![endif]>
State and Federal Programs
  785-296-2306
  785-296-5867  (fax)
TEN FREQUENTLY ASKED QUESTIONS (FAQ)
REGARDING THE EDUCATION OF
LIMITED ENGLISH PROFICIENT (LEP) STUDENTS/
ENGLISH LANGUAGE LEARNERS (ELLs)
<![if !supportLists]>1. <![endif]> What is the correct term for students whose first language is not English
and they are not yet proficient in academic English?
Limited English Proficient (LEP) or English Language Learner (ELL) – both terms are
used interchangeably. Culturally and Linguistically Diverse (CLD) is another term that is used.
<![if !supportLists]>2. <![endif]> What is a school district's responsibility for educating ELLs?
A school district must provide language support services (offer an English as a
Second Language – ESL – program) until that student is proficient enough in
English to be successful in the mainstream classroom without additional language
support services.
<![if !supportLists]>3. <![endif]>What if the school district only has a few ELLs?
Even if only one ELL is enrolled in the school district, s/he must receive ESL
services by that school district.
<![if !supportLists]>4. <![endif]>What constitutes an ESL program?
An ESL program is simply an ESL endorsed teacher (or, a teacher working
towards obtaining his/her ESL endorsement) providing language support services
to the ELL.
<![if !supportLists]>5. <![endif]>How much time per day should the ELL receive ESL services?
Ideally, the ELL should be with an ESL endorsed teacher throughout the day,
with the teacher modifying the content to make it comprehensible to the ELL.
When this is not possible, the ELL should receive ESL services at least one period
per day.
<![if !supportLists]>6. <![endif]>What is the ESL endorsement?
The ESL endorsement is not a stand-alone certificate, but an attachment to an
existing license.  Depending on the issuing institution of higher education, it
requires either 15 or 18 credit hours plus a passing score on the Praxis II.
<![if !supportLists]>7. <![endif]>What if the school district does NOT provide ESL services to the ELL?
This is a violation of Title VI of the Civil Rights Act of 1964 and that district
could get cited by the Office for Civil Rights (OCR).
<![if !supportLists]>8. <![endif]>How does a school district identify a student as ELL?
Every school MUST have a question on its enrollment form asking what the
student's home language is.  If a language other than English is indicated, then the
student MUST be tested for his/her English proficiency.  If the student scores
below "proficient" on the English assessment, then that student is identified as
"ELL" and must receive ESL services.
<![if !supportLists]>9. <![endif]>What if the student speaks English perfectly well, does the school still
need to assess the student for his/her level of English proficiency?
YES.  There are two types of language proficiency:  social and academic.  Just
because a person can speak and listen to a second language well, do not assume
that person has literacy skills in that language.
<![if !supportLists]>10. <![endif]>Is there funding available for ELLs?
Yes, both state and federal.
NOTE: THIS FAQ LIST OF QUESTIONS AND ANSWERS WAS
PROVIDED BY MELANIE STUART OF KSDE IN DECEMBER 2004.